Vietnam's economy is on a strong growth track and export turnover is constantly increasing. An important part in promoting the Vietnamese economy is the system of efficient and vibrant seaports. Please follow the following article to get general information about Vietnam's seaports.
1. List of seaports in Vietnam
According to vietnamplus.vn newspaper, Deputy Prime Minister Le Van Thanh has just signed Decision No. 804/QD-TTg dated July 8, 2022 announcing the list of 34 seaports in Vietnam. Accordingly, these 34 seaports are classified as follows:
Special port

(*score over 90 points)

02 ports

Hai Phong Seaport

Ba Ria Vung Tau Seaport

Port class 1

(the score is over 70 points – 90 points)

11 ports

Quang Ninh seaport

Thanh Hoa seaport

Nghe An Seaport

Ha Tinh seaport

Da Nang Seaport

Quang Ngai seaport

Binh Dinh seaport

Khanh Hoa seaport

City seaport. Ho Chi Minh

Dong Nai seaport

Can Tho seaport

Port type 2 

(total score from 50 to 70 points)

7 ports

Quang Binh seaport

Quang Tri seaport

Thua Thien Hue seaport

Binh Thuan seaport

Dong Thap seaport

Hau Giang seaport

Tra Vinh Seaport

Port type 3  

(total score less than 50 points)

14 ports

Nam Dinh seaport

Thai Binh seaport

Quang Nam seaport

Phu Yen seaport

Ninh Thuan seaport

Binh Duong seaport

Long An seaport

Tien Giang seaport

Ben Tre seaport

Soc Trang seaport

An Giang seaport

Vinh Long seaport

Ca Mau seaport

Kien Giang seaport.
*Decree regulates the assessment and classification of seaports based on the scoring method. The rating scale is 100 points and is specifically identified with each criterion.
In there
Criteria for the scope of influence are approved through the following criteria:

The seaport serves the socio-economic development of the whole country or inter-region and has the function of international transshipment or international gateway port.
Seaports serving the socio-economic development of the whole country or inter-region
Seaports serving the socio-economic development of the region
Seaport serving local socio-economic development

Scale criteria are evaluated on the basis of goods output through:

Output of goods through the seaport
Ship tonnage size received at seaport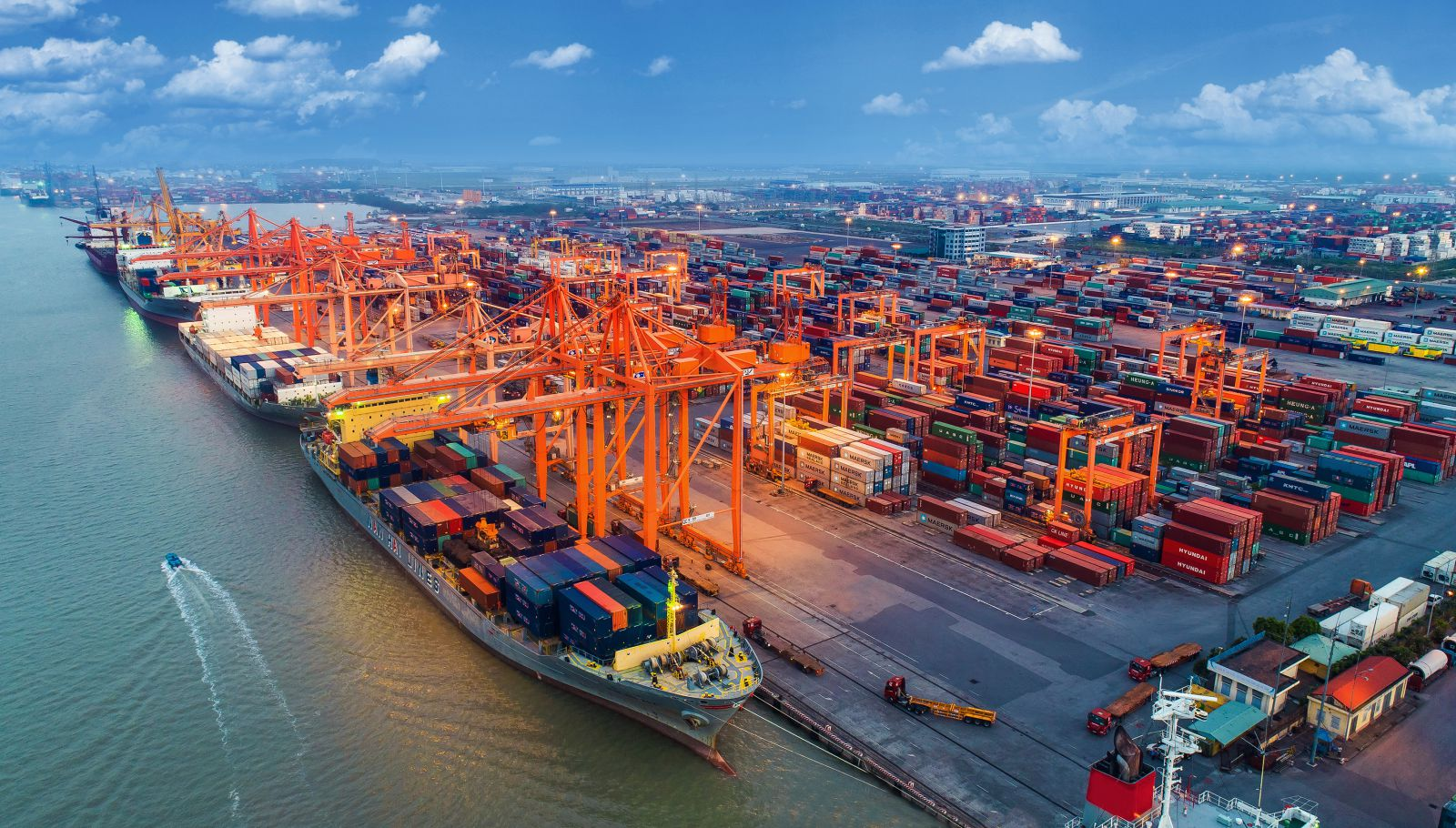 Hai Phong Port is one of two special ports that play an extremely important role in promoting the inter-regional and national economy.
2. Statistics of Vietnam's seaports
In addition to dividing seaports according to their roles with economic and social development, at present, seaports are also classified according to their size and level of operational efficiency. Specifically:
2.1 Largest seaport
Currently, our country has two largest seaports with a long history of formation and development, namely Hai Phong port and Vung Tau port. Both these ports are at the national level and are the international hubs for trade and economic development and integration with other countries.
According to a source from tapchimoitruong.vn, Hai Phong port has 42 container terminals and 21 cargo ports, capable of receiving super-class ships of 40,000 DWT.
2.2 New seaport
To further develop Vietnam's seaport system, the Ministry of Transport has issued Decision No. 552 on the addition of 10 new ports, bringing the total number of ports nationwide to 296. The 10 new ports include:
Nosco Wharf – Quang Ninh
Long Son Port – Nghi Son, Thanh Hoa
Hai Ha Petroleum Port – Quang Tri
Pacific Petro International Petroleum Terminal – Tien Giang
Giao Long Tan Cang Wharf – Ben Tre
Port of Duyen Hai 2 Thermal Power Plant – Tra Vinh
Cai Mep Gemadept Wharf – Terminal Link – Vung Tau
Cai Mep General Port – Vung Tau
VIMC Dinh Vu Wharf – Hai Phong
FGG specialized port – Hai Phong.
Source: Website vietnamplus.vn
The new seaport system stretching from the North to the South will contribute to promoting the economy according to the integration trend of our country.
2.3 The most efficient seaport
According to baoquangninh.com.vn, which reports on the operational efficiency of seaports in 2021 by the World Bank (WB) and British market research company IHS Markit, it is an honor when Vietnam has 3 ports. in the Top 50 most efficient ports in the world.
| | | | |
| --- | --- | --- | --- |
| Information | Cai Lan Port | Hai Phong port | Cai Mep Port |
| Ranking position | forty six | 47 | 49 |
| Service capabilities | Loading and unloading capacity reaches 40 containers/crane/hour | Container cargo throughput will reach 1,000,000 containers in 2021 | In 2021, the volume of container goods exported and imported through Cai Mep port is estimated at 4.6 million TEUs. |
It is thanks to the efficient operation of major seaports that have created the premise for the seaport system to become an important link in the global logistics transport chain and promote the development of Vietnam's economy. At the same time, industrial parks close to major seaports will have many advantages in terms of transportation and logistics to increase competitiveness in the market.
In particular, Nam Dinh Vu industrial park has the advantage of a seaport located in the area and enjoys all utilities from the large and modern Hai Phong port system. These will be special advantages for businesses in the area to have a favorable business environment, convenience, and reduce transportation and logistics costs. Along with a prime location, synchronous planning, and great incentives, Nam Dinh Vu is an ideal destination for secondary investors.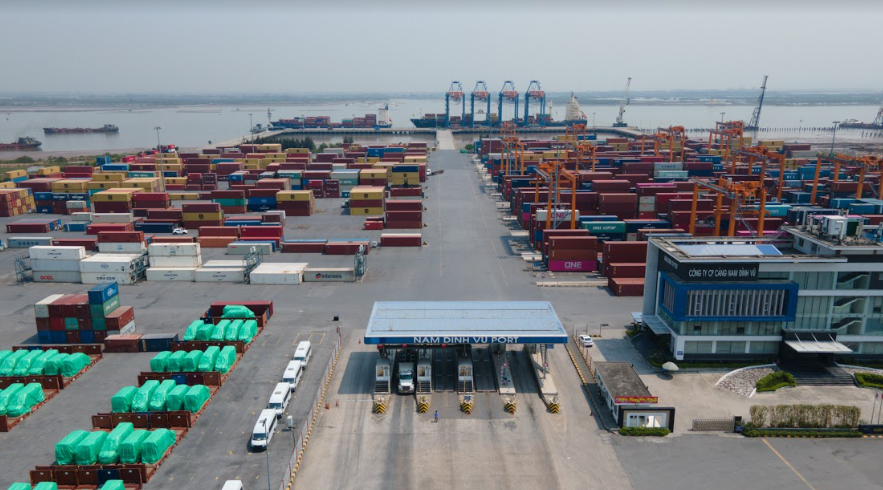 Nam Dinh Vu Industrial Park enjoys full utilities from the port system, which will bring secondary investors a favorable business environment and great competition.
Thanks to the large seaport system, the efficient operation of some ports such as Hai Phong has contributed to putting Vietnam on the international maritime map. And industrial parks that know how to take advantage of the advantages from seaports like Nam Dinh Vu will be a "magnet" to attract capital from secondary investors.