Vietnam's seaport system is very interested and focused on development. Because the seaport system is strong, it will create a force to promote goods trade between Vietnam and countries around the world. That is also the orientation of our country's economic integration in the future.
1. Scale of Vietnam's seaport system
With the advantage of a long coastline, the scale of the seaport system in Vietnam in recent years has been continuously expanded and developed.
Currently, our country has 45 seaports. In which, there are 2 seaports of class I (special seaports), 11 seaports of class I, 7 seaports of class II, 14 seaports of class III.
Source ( https://xaydungchinhsach.chinhphu.vn )
According to news https://vneconomy.vn/ in 2022, there will be 10 new ports put into operation with a total of 296 ports. The additional ports include:
Nosco harbor – Quang Ninh seaport
Long Son General Port – Nghi Son Seaport, Thanh Hoa
Hai Ha Petroleum Port – Quang Tri
Pacific Petro international oil and gas port – Tien Giang
Giao Long Tan Cang Wharf – Ben Tre
Harbor of Duyen Hai 2 Thermal Power Plant – Tra Vinh
Cai Mep Gemadept Port – Terminal Link and Cai Mep General Port – Vung Tau
VIMC Dinh Vu port and FGG specialized port – Hai Phong.
In addition, according to the master plan on development of Vietnam's seaports in the 2021-2030 period, our country's seaport system is divided into 6 groups. Specifically:
| | |
| --- | --- |
| Group 1 |  Northern seaport from Quang Ninh to Ninh Binh |
| Group 2 |  North Central Seaport from Thanh Hoa to Ha Tinh |
| Group 3 |  Central Central Coast Seaport from Quang Binh to Quang Ngai |
| Group 4 |  South Central Seaport from Binh Dinh to Binh Thuan |
| Group 5 | Southeastern seaport including Con Dao and Soai Rap river, Long An |
| Group 6 |  The seaport in the Mekong Delta includes Phu Quoc and the southwestern islands. |
(Source: https://baodautu.vn/thu-tuong-chinh-phu-phe-duyet-quy-hoach-cang-bien-viet-nam-giai-doan-2021—2030-d152101.html)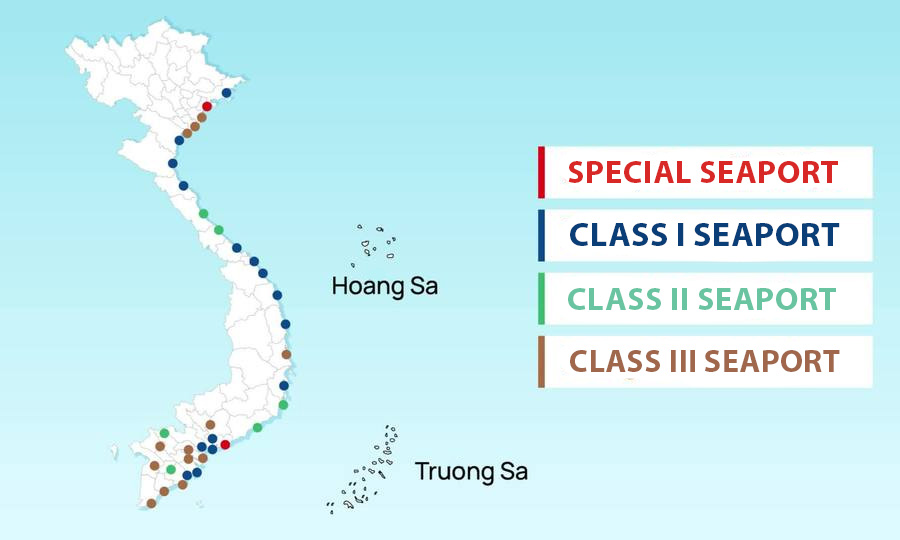 2. 5 biggest seaports in Vietnam today
According to eaglesfwd.com, the top 5 largest seaports that play an important role in the country's economic development include:
Hai Phong port
Hai Phong Port is one of the largest ports in our country and is listed in the Top 50 most efficient seaports in the world in 2021 by the World Bank (WB) and British market research company IHS Markit. select.
Currently, the port has 5 branches, the port area has 21 piers with a total length of 3,567m. As the largest cargo traffic destination in the North, Hai Phong port is ready to receive about 10 million tons/year. In addition, the seaport in Hai Phong can also receive large ships reaching 40,000 DWT. In the future, Lach Huyen port will invest and develop to receive 100,000 DWT super-heavy ships.
Vung Tau Port
Vung Tau Port is a national seaport cluster and a major international hub, operating effectively in Vietnam. The port is an important trade hub for goods in the Southeast region.
Vung Tau port has 4 wharf areas: Cai Mep wharf area, Sao Mai wharf area, Ben Dinh wharf area, Phu My wharf area, My Xuan wharf area, Dinh river wharf area, Dam wharf area, and Con Dao wharf area. Some wharves at Vung Tau port can accommodate ships reaching 30,000 DWT.
Van Phong Port
Van Phong Port is located in Van Phong Bay, close to many international routes and convenient for goods circulation with Hong Kong, Singapore and many other countries. The port has 8 container berths with a capacity of 12,000 TEU and it is expected that the port can receive 5 million TEU/year.
Quy Nhon Port
Although there is only one Thi Nai port area, with a receiving capacity of 50,000 DWT, Quy Nhon port is also considered as one of the major seaports in our country. At the same time, the area of ​​​​the port area is 306,568m2, the warehouse area is 30,732m2, always ready for large volume of import and export goods.
Cai Lan Port (Quang Ninh)
This is a deep-water port in Hon Gai port cluster, Quang Ninh province. Cai Lan Port is being oriented and expanded to become one of the largest transshipment locations for import and export goods in Vietnam. The port has 8 berths, 2 loading and unloading berths, 2 inclined berths and is ready to receive large ships from 1 to 50,000 tons to dock.
Source: https://eaglesfwd.com/chi-tiet-ban-tin/top-10-cang-bien-lon-nhat-viet-nam-hien-nay-eagles-global-forwarding-corp.html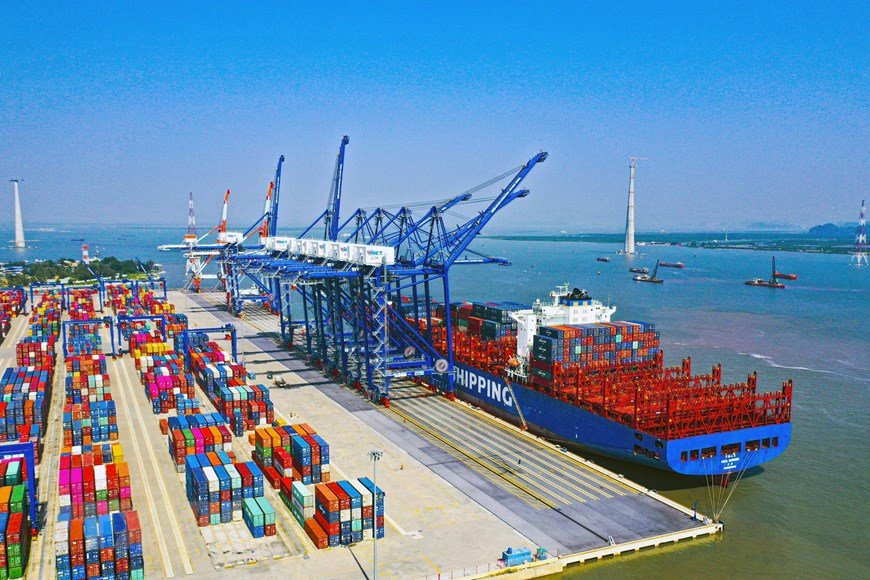 3. Characteristics of Vietnam's seaports
Vietnam's seaports are evaluated with many advantages, facing new opportunities for development, but there are certain limitations.
Strength
The seaport system is synchronously planned, associated with major economic regions of the country to create a driving force for the development of the regional economy in particular and the country's economy in general.
A number of ports are interested and invested in with modern and international scale, showing their connecting role, such as: Hai Phong port, Vung Tau port.
The constant increase in the number of claws in Vietnam. Along with that is the improvement in capacity and service quality. In fact, the volume of goods through the seaport system has continuously increased, in the period 2016-2020, the volume of goods through the sea each year increased by an average of 10%.
Weakness 
The developed seaport system has not been commensurate with the existing potential and has not been adequately invested.
Port planning is still limited.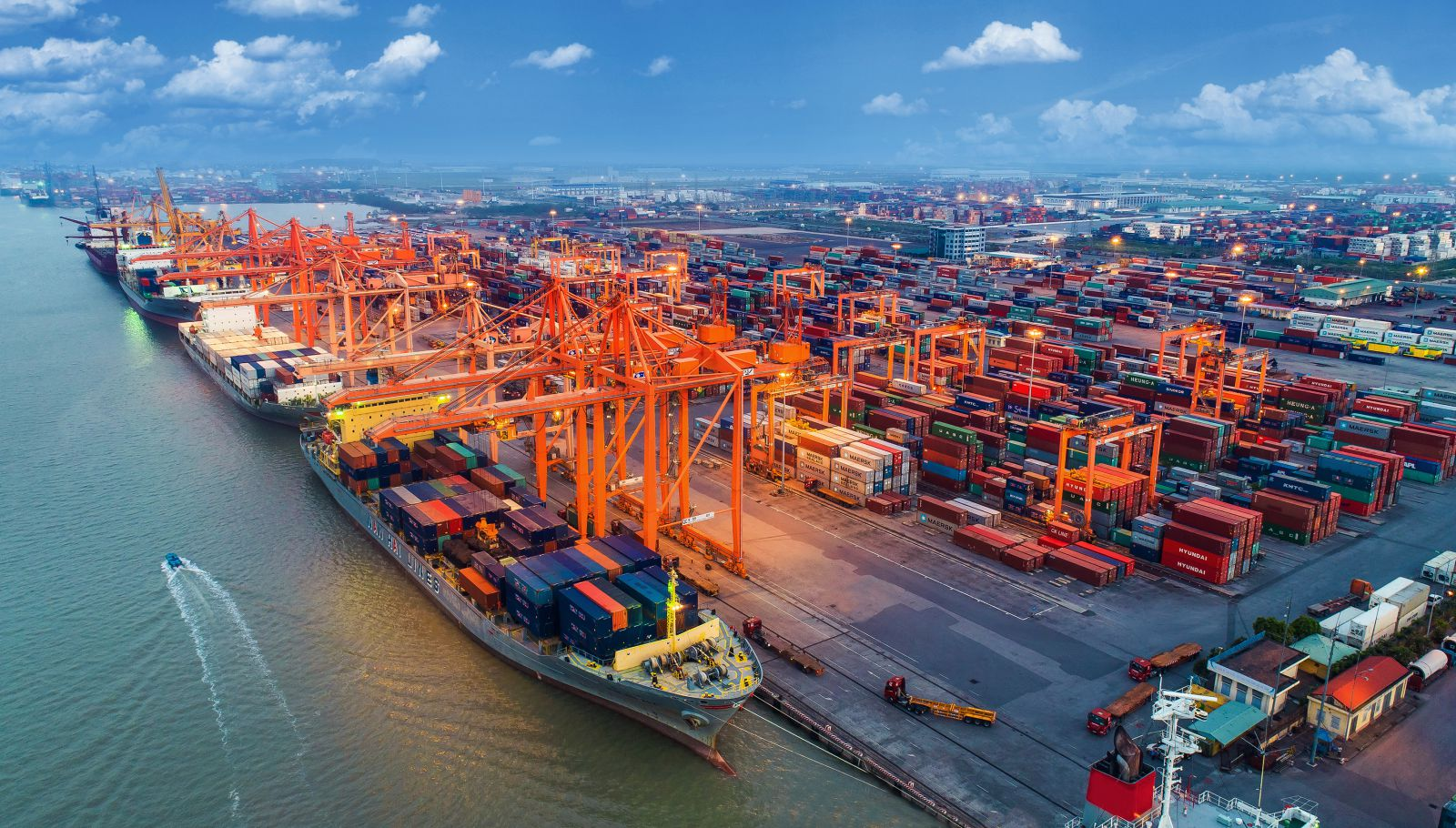 4. Development orientation of Vietnam's seaport system
Orientation to 2030, our country will develop a synchronous and modern seaport system with high service quality to attract many foreign partners. Promote the circulation of Vietnamese goods to the world market to create a driving force to mark the Vietnamese economy on the world economic map. At the same time, it still performs well its role of developing the marine economy while ensuring national defense, security, maritime safety and environmental protection.
With the advantages of geographical location and long coastline, Vietnam's seaport system is still making a significant contribution to boosting the country's economy. Along with the right orientation, in the future Vietnam's seaport system will have a strong development with new imprints.