In the context that the country is integrating deeply with the region and the world, with a series of new-generation trade agreements being passed and taking effect, Hai Phong is forecasted to become an ideal destination for foreign investors. domestic and foreign investment. 

In order to actively receive the new investment wave, on the completed infrastructure, Sao Do Group (the investor of Nam Dinh Vu Industrial Park) is implementing many programs to support promotion, provide utilities, added value create attraction for investors. 

Through that, Sao Do and businesses in Nam Dinh Vu Industrial Park develop together, contributing to the strength of Hai Phong city, which is a seaport and logistics.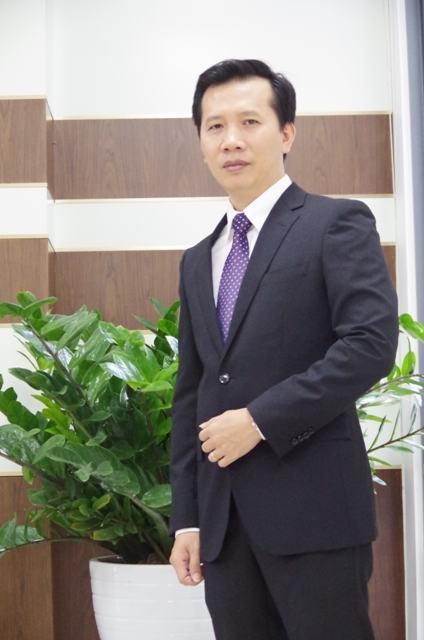 Make a difference
Established in 2002, after 16 years of construction, Sao Do Group has become a large enterprise with multi-industry and multi-field businesses with a scale of assets, capital, and revenue of trillions of dong. In particular, the area of ​​strength and an important contribution to affirming the prestige and brand of Sao Do Group is construction and real estate business. From the initial "start-up" project of building Sao Do 1 and Anh Dung 2 urban areas to later works, Sao Do is highly appreciated by investors and users for its quality and professionalism. and accompanying services and added value. 
On the way to development, in 2009, Sao Do embarked on the field of investment and business in infrastructure of industrial parks. Unlike industrial parks in the city, most of Nam Dinh Vu Industrial Park's area is flooded. To have a clean ground, Sao Do has to invest trillions of dong to "fill the sea". With perseverance and determination, up to now, phase 1 of Nam Dinh Vu Industrial Park with an area of ​​​​about 400ha has completed the infrastructure construction with a full range of technical works such as road systems, electricity, centralized water supply, waste treatment and wastewater treatment.
With the specificity of industrial real estate business, customers are businesses and investors with increasing requirements. Therefore, they are not only interested in a clean and synchronous ground in terms of technical infrastructure, but also take into account other factors such as the ability to connect to the country's main traffic axis, investment incentives ( corporate income tax, import and export tax) and other value-added services….
Therefore, besides the advantage of being able to connect to the Hanoi-Hai Phong expressway, located in the deep-water seaport area, along with preferential mechanisms when investing in Dinh Vu – Cat Hai economic zone, To increase the attraction of Nam Dinh Vu Industrial Park, Sao Do also deploys a business and investor support department. Support services include: relevant legal procedures such as necessary licenses related to the business, ensuring security and order outside the factory area… Thus, investors only need to do Working with a focal point at Sao Do to complete all necessary procedures from surveying, project formulation to plant construction and operation, and going into production and business.
An important advantage of Nam Dinh Vu Industrial Park is the continuity in providing products and services. "Even in the process of planning subdivisions to attract investment, we have designed to create supply chains. Products of one area will be an input for other areas. For example, the gas import business area will provide raw materials for the production business area. The area of ​​port, logistics and logistics services will provide services for export businesses. As a result, businesses and investors will reduce production costs, time and transportation costs" –  Mr. Nguyen Thanh Phuong, General Director of Sao Do Group emphasized.
From the advantages of "natural time, geographical advantage, human harmony", Nam Dinh Vu Industrial Park has been sought by many domestic and foreign investors. Phase I of the industrial park with a scale of about 400 hectares, right after completing the infrastructure, has attracted many large domestic and foreign investors. With the strong spillover from the project in phase I, Sao Do is investing in infrastructure construction phase II of Nam Dinh Vu Industrial Park with an area of ​​more than 900ha.
Cooperation for mutual development
With a view of sustainable development, Sao Do Group wishes to build Nam Dinh Vu Industrial Park into a common roof, where the interests of the state, businesses and customers must be harmoniously combined. For local authorities, Nam Dinh Vu Industrial Park is not only a highlight of investment attraction and effective use of resources, but also actively contributes to socio-economic development. For investors, IPs are "good land" for them to do business effectively.
Currently, in order to increase the competitive strength of enterprises, and at the same time accelerate the rapid implementation of important projects, Sao Do Group actively promotes the expansion of joint ventures and association with partners. in related fields. The common view when cooperating with Sao Do is that both sides "win" (win-win cooperation). With its brand strength, Sao Do also participates in other affiliated companies such as: Company Shares of Nam Dinh Vu Port, Nam Dinh Vu Electricity Trading Company and Nam Viet Environmental Treatment Company. Sao Do's cooperation partners are all units with strong potential and experience in their business fields. As a result, both sides increase their competitiveness and support each other's development. In the future, when the wave of investment from new generation trade agreements, from the 4.0 technology revolution, … will also create a great "room" for development and cooperation. Certainly, development opportunities will be wide open with Sao Do in general and Nam Dinh Vu Industrial Park in particular.
According to Mr. Nguyen Thanh Phuong – General Director of Sao Do Group: Hai Phong has made great strides in creating a favorable business and investment environment. A series of important infrastructure construction projects such as Hanoi-Hai Phong Expressway, Hai Phong-Van Don Expressway, Tan Vu Lach Huyen Bridge, deep-water port, Cat Bi airport upgrade .. have been implemented and completed and put into operation. These projects contribute to promoting the advantage of Hai Phong's import and export "gateway" in the northern region, creating a great attraction for the business community.
In addition, the city directs drastically in the implementation of administrative procedure reform, reducing the number of procedures, reducing time, implementing an electronic, inter-connected, effective implementation of site clearance. At the same time, the city maintains a continuous dialogue channel between businesses and authorities at all levels from the city to departments, districts and districts. The opinions of businesses are received, explained and handled in a timely manner in accordance with the provisions of the Law and in a direction conducive to the development of the business and the city.
Source: http://vhdn.vn/tap-doan-sao-hop-tac-cung-phat-trien/